Who I Am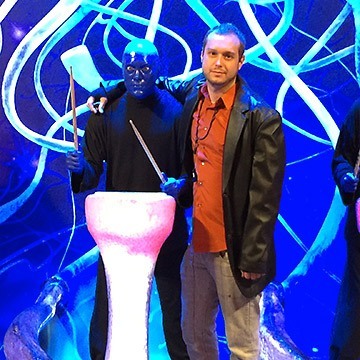 In the real world I inhabit Phoenix, Arizona, USA. Between five and ten weekday evenings I can typically be spotted near N33° 29.0744′, W112° 5.3194′.
When I'm not there you can find me online, often lurking in an IRC channel, reading or writing technical documentation, and constantly contributing to projects on GitHub. If all else fails, look for me at the dog park reading an analog book near a golden and a catahoula.
This site does not exist to sell you things. I use tools to build tools that solve challanges which pique my curiosity, and by releasing my projects open source I invite and encourage others to scrutinize, make suggestions to, and improve upon the codebase.
Should you find an invalid statement on my site or in my code consider taking the time to refute it and set me straight. Let's work together to keep the World Wild Web clean and free of noise.
I was built in San Francisco around 1985 and crossed over into the virtual world, using Netscape Navigator and a text editor, around the time Geocities was popular . My hobbies include spending time with my non-human animal friends, indie and electronic dance music, literature, the flying spaghetti monster, cooking, science, puns, science fiction, the Internet, and programming for the latter.
Around one year ago I split up with the quad-core AMD Phenom II Black Edition to which I was practically married for five years. We may still love each other, but the world is taking us in different directions . For the moment I live in Phoenix, Arizona, among our old memories.
"Chris Vogt" is just my mundane name; you can call me "C1V0″.
Adapted from Richard Stallman's 1983 bio, released under the Creative Commons and published in the first edition of "The Hacker's Dictionary .